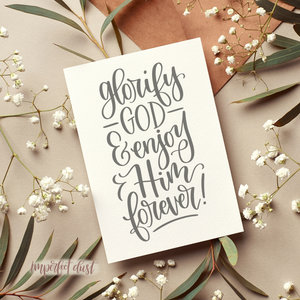 "Glorify God and Enjoy Him Forever" | Scripture Art Print
Inspired by Question 1 of The Westminster Shorter Catechism 

Q: What is the chief end of man?
A: The chief end of man is to glorify God and enjoy Him forever.
Scriptures to reference for the inspiration are Psalm 86:9, Romans 11:36, 1 Corinthians 6:20, and Revelation 4:11.
Size: 5x7 inches

This scripture print is an Imperfect Dust original, hand-lettered by Danielle Stringer and reproduced as a high-quality giclee print. 
Using seven dye-based inks, our giclee prints offer vibrant color reproduction and enhanced clarity on archival quality fine art paper.