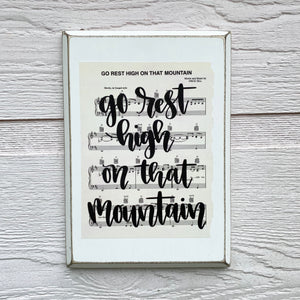 Go Rest High On That Mountain
Go Rest High On That Mountain | Sympathy Gift

The sheet music is preserved on distressed wood. (Roughly 7x10in.) No two boards are alike and distressing will vary. They have a saw tooth hanger on the back for hanging, and can also be displayed on an easel.
It is our prayer that these timeless hymns will not only glorify our Lord and Savior Jesus Christ, but also bring back memories of loved ones singing their praises or your favorite childhood memories in the church pew.
Don't see your favorite hymn? Feel free to contact us via the "Custom Sign Request" option to request something special made. We can check the availability through our various hymnal publishings for your request and make it special for you at no extra cost :)
Thank you for stopping by the shop!
All designs and photos owned by Imperfect Dust: © Copyright 2015-present. All Rights Reserved