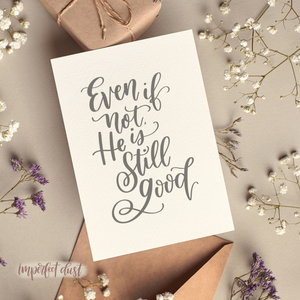 He is Still Good | Scripture Art Print
Even if not, He is still good

Size: 5x7 inches

This scripture print is an Imperfect Dust original, hand-lettered by Danielle Stringer and reproduced as a high-quality giclee print. 
Using seven dye-based inks, our giclee prints offer vibrant neutral color reproduction and enhanced clarity on archival quality fine art paper. 
The neutral nature allows the print to work for any home decor.