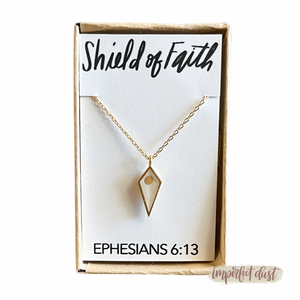 "Shield of Faith" Necklace
The shield of faith necklace is a reminder that we fight our battles by putting on the whole armor of God! The shield holds a small mustard seed because nothing is impossible with faith the size of a mustard seed.
Put on every piece of God's armor so you will be able to resist the enemy in the time of evil. Then, after the battle, you will still be standing firm. Ephesians‬ ‭6:13‬
I tell you the truth, if you had faith even as small as a mustard seed, you could say to this mountain, 'Move from here to there,' and it would move. Nothing would be impossible. Matthew‬ ‭17:20‬
-Handmade by Megan Shaver of "Seeds and Mountians"
- Mustard seed and resin
- 16.5in - 18.5in gold plated extension chain
- Hypo allergenic
- gold plated shield charm 8mm x 16mm
- Chain thickness 1.0mm
Comes with a scripture card and gift box.
Care instructions:
To ensure the longevity of your piece..
- Keep away from moisture
- Store in a sealed bag or air tight box
- Remove jewelry before bed, showering, working out, or swimming
- Clean occasionally with a jewelry cloth